Diving into Marriage
By Rachel Hagenbaugh  |
ALLIANCE, Ohio. — At first, Warren Swegal is just a dot 10,000 feet in the air.  Gradually, the shape of the parachute starts to take form.  Sometimes he spins around in a circle, but only for a few seconds.  To those on a ground, it seems like a long time.  For the jumper, time flies.
Back on the ground again, Swegal, 25,  of Cleveland, is in a state of awe.  The expression on his face could not be more serene.  He is at a loss for words.  Less than 10 minutes ago he was in an airplane, 10,000 feet in the air.  Thirty seconds of free-falling at 120 m.p.h. and about five minutes of gliding with a parachute, he's back on the ground. This is a special day for Swegal.  He just skydived for the first time, but he doesn't have much time to reflect on it.  Today is a busy day.  He's already running late to his rehearsal dinner.  He's getting married tomorrow.
Jarrod Bonsmann, 25, of West Palm Beach, Fla., and Swegal have been friends for about 12 years.  Bonsmann said he and Swegal have done a lot of crazy things together, like rock-climbing and scuba-diving.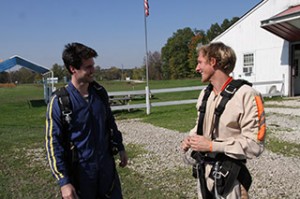 "This was just the next natural progression," Bonsmann said, "I wanted to do something we've never done before."
Bonsmann asked Swegal's fiancee, Cordelia Dennison-Budak, if his wedding gift could be just for Swegal.  He didn't tell anyone what he was planning.  He told Swegal a week ahead of time that he had something arranged for the morning of the rehearsal dinner.
Swegal said he figured it out two days earlier.  Bonsmann told him they weren't driving any place far.  He did some researching on the Internet and found Canton Airsports, a skydiving school in Alliance.  Swegal knew that had to be where they were going. "Knowing ahead of time helped," Swegal said, "I was mentally prepared."
Free-fall
Swegal did what is called tandem jumping.  He wore a harness that was attached to instructor, Tom Sutton, during the fall.  The most exhilarating part was jumping out of the airplane, Swegal said.  His instinct was to grab on to anything within reach.  Eventually he realized that he wasn't in control.  He crossed his arms and jumped. "You just have to relax and let go," Swegal said. Sutton, his instructor, said they were in free-fall for 5,000 feet before he deployed the parachute.
"When you're free-falling, the trees get a lot bigger a lot faster," Swegal said, "Once he deployed the parachute, everything got really calm. Sutton and Swegal did a few flips and spins, but it happened quickly and made Swegal a little dizzy.  Sutton said most people have a great time skydiving. "Occasionally, they'll say, 'That was fun, but I'll never do it again," Sutton said, "Most of the time they do it once and fall in love with it. Swegal said it's definitely something he'd do again.  It was also a nice surprise the day before his wedding. "It definitely switched my focus," Swegal said.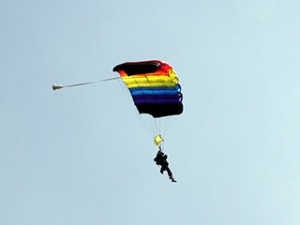 Two big leaps
Planning a wedding is stressful, but it hadn't been as hard for him as it was for his fiancee.  Swegal said he had a lot more to worry about, but from a guy's perspective it's still not easy.  The dive gave him something to think about besides the wedding.  He felt as if the next day would go a lot more smoothly.
"Preparing for a wedding is nothing like jumping out of an airplane," Swegal said.  "If I can do that, a wedding won't be that stressful."
Swegal looked at his watch.  He explained that his rehearsal dinner was in a few hours.  No one knew where Swegal and Bonsmann had gone this morning. "If they ask, I'll tell them," Swegal said.  "Hopefully, my fiancee won't be too mad." Swegal laughed to himself.  He said as long as he makes it back in one piece–no bruises on his face or broken bones–Cordelia won't be upset.
"I don't think she'll be too surprised," Swegal said, "She knows Jarrod.  It's just like him to pick something like skydiving." Swegal said Bonsmann is the "driving force" behind the things they do. "He's the crazy one.  I just tag along." he said.
As he gets out of his skydiving gear, Bonsmann gets into the plane and the pilot begins the second ride of the day.  Now Swegal gets to watch the dive from the ground.  In a few minutes he'll be searching the sky for the small dot that is Bonsmann. Rodger Conley, owner of Canton Airsports, said the best part about his business is watching people make their first jump. "The reward is watching these people try something new and enjoying it," he said.