Spring Break Is A Lot Of Work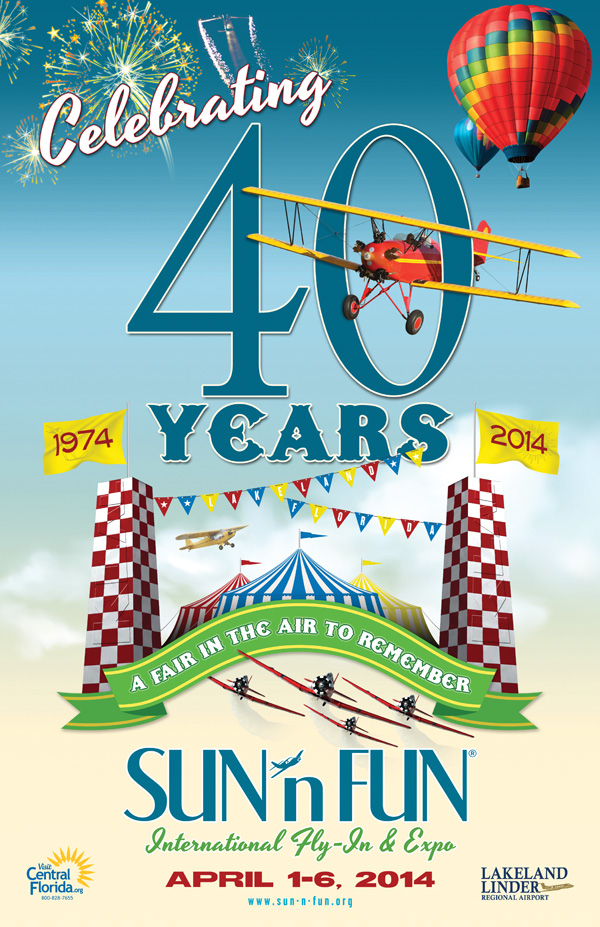 Spring Break for Pilots
For the folks at Linder Regional Airport in Lakeland, Florida, spring break is hardly a time to rest.  They have been preparing for months for the start of the Sun 'n Fun International Fly-in and Expo that begins on April 1st and runs through April 6th.  The fly-in has grown from a simple midwinter getaway for pilots started 40 years ago to become the second largest aviation expo in the U.S.
A Few Close Friends
Lakeland will attract upwards of 150,000 aviation enthusiasts to Florida just in time to help all of us trapped in the northeast to find a cure for cabin fever and a winter that won't let go.  This year, I will be among the faithful who return every year to get a jump on the good flying weather.  This will be my first visit to Lakeland. Mike Collins from AOPA hardly had to twist my arm to get me to join him at the International Society for Aviation Photography XIII 2014 Symposium in nearby Tampa. I'll be shuttling between the two cities to also join Dave Shallbetter on SnF Radio in the mornings at Lakeland.
Get an Autographed Book
I'll be giving away copies of my new book Lost in Oscar Hotel: There is Something in the Air to help celebrate SnF Radio's 20th birthday and Sun 'n Fun's 40th anniversary.  There is a rumor I will be helping Dave direct the on-air show–or make waffles.  I am certain the waffle assignment will come swiftly when Dave realizes I know nothing about directing a radio program.
Wednesday through Friday from 2:00-3:30, I'll be at the Pilot Mall to sign books with some amazing authors including Col. Bud Anderson, WWII's most decorated fighter pilot and the Tuskegee airmen.  The Pilot Mall is Florida's aviation superstore and is based right on the field at Linder–I'll look forward to seeing you there!  I'll be uploading photos and stories from the symposium in Tampa and the Fly-in in Lakeland.  Stay tuned for more.