Features
Published April 4, 2013 at 1:09 pm
Comments Off

on Aerial Advertising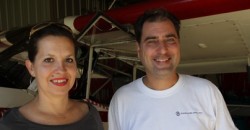 By Britni Williams | ELYRIA, Ohio —   "Have a seat in my office," Konrad Balunek said as he slid aside the door.  He wasn't dressed in what one would consider business attire. He wore faded blue jeans with a white T-shirt and worn, brown work boots. His office didn't have the sterile feeling of a typical […]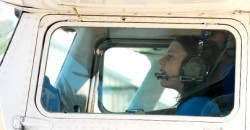 WADSWORTH, Oh. – She can't drive a car, but this 15-year old girl traveled from Holland to a small country airfield in Ohio to learn how to fly an airplane. The proud father snapping photos of her from the taxiway is one of our nation's leading space-based telescope repairman.
Features
Published September 10, 2012 at 1:09 pm
Comments Off on An Unusual Gift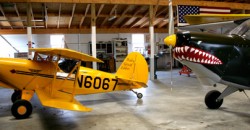 MADISON, OH–Forty-six years ago, Gretchen Reed was picking someone up from a small airport in Painesville when she first saw Charles Reed, a diehard pilot she knew through family friends. She was 21 and "he was just the ultimate cool," she says.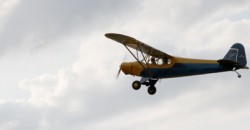 Stories That Fly launched May 2 at a celebration in Franklin Hall, home of the site, as well as the Kent State University journalism program. A crowd of approximately 70 people attended. Co-hosted by the Kent State University Flight Program.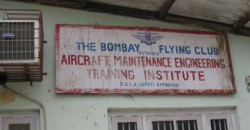 Dr. Ron Siwik had to make a decision: Comply with an air-traffic controller who demanded he deviate from his flight path. Or ignore the voice on the radio and risk immediate peril in one of the world's most hostile nations. This is the choice he faced in Rangoon, Myanmar, on his 24,604-mile, around the world solo flight in 2008.
COLUMBUS, Ohio — Most wouldn't be surprised to hear Ohio State Trooper George King is on the lookout for marijuana fields and highway speeders. But few would guess where he's hiding: in the clouds. King works for the aviation section of the Ohio State Highway Patrol. He flies a Cessna 182, which is nothing like […]
Features
Published May 26, 2009 at 2:35 pm
Comments Off on My Tail's Dragging
MEDINA — Pilot attempts to learn how to fly a "conventional" airplane from the 1940's. All that is required is to be able to balance a baseball bat in one hand, and push a two-wheeled suitcase in a straight line while running. If successful, there may be hope of not ruining Earle Olsen's 62-year old pride and joy.
Features
Published April 30, 2009 at 11:18 am
Comments Off on Where Paper Meets Airplanes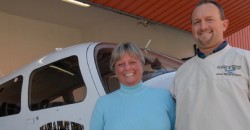 RAVENNA — It's a bright Thursday afternoon at Portage County Regional Airport, a few weeks into April. Some pilots are taking advantage of the clear weather. Others are dusting out the downtime clutter in their hangars or simply displaying their planes in the spring sun.
GEAUGA COUNTY – It's summer and the cornstalks are tall, the fields are vast and the anomalies are easily identified from the air. George King, state trooper, works the skies, assisting his ground-based colleagues in spotting highway speeders, missing persons and cornfield marijuana.
Show your support for Stories That Fly with a new T-shirt! You can now order online! You'll look great in this shirt and feel good knowing that you are supporting the best digital stories in general aviation!
Features
Published July 16, 2008 at 7:57 pm
Comments Off on The Skyline Diner
SALEM — A fine meal at a small airport usually means a vending machine with two kinds of candy and a nearby pot of hot coffee. Someone forgot to mention this to Mike Pidgeon and his family. On a good day, they are serving a home-cooked breakfast and lunch to 450 guests—and you can park your airplane at the door. With flight training, a maintenance shop and the cheapest fuel for miles, Salem's Skypark airport is almost heaven.
Features
Published July 7, 2008 at 7:52 pm
Comments Off on Birdmen
YOUNGSTOWN, Oh. – Like a lot of general aviation enthusiasts, Arnold Howell spends his weekends at a local airfield, but not because he is hoping for an airplane ride. This former steelworker from Youngstown races pigeons.