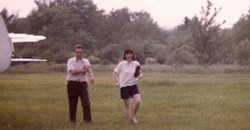 AKRON — In the 1970's, Mary Hruby became a pilot when a lot of women wouldn't dream of it. It was a joy that she shared with her husband. Then icing over the Sierra Mountains forced them down, and when rescuers finally found the airplane wreckage, the snow had been falling for days. The Sierra Mountains had claimed a life, but miraculously spared two others.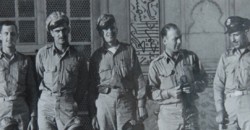 KENT — Some time after the first solo and before becoming licensed, every pilot who has learned how to fly since the 1920s has been warned, "There are old pilots, and there are bold pilots—but there are no old bold pilots." How then, does one explain Richard Schwabe?
RAVENNA, Oh. – Near the end of the war, Peter Graichen frequently heard this phrase as a young boy growing up in Germany. So when the time was right, he packed up, and headed for America's "streets of gold," but he only wanted to find the one leading to the nearest airport.
SUN BEAU VALLEY FARM — Every September, crowds of people jam the city streets and the pastures of this farm for the Ravenna Balloon-A-Fair. They come for the parade and to enjoy the festival atmosphere and to watch balloonists launch ships with names like Kaleidoscope, Whale Boy, Second Wind, Kilroy, Boo-Lou-Noodles and Diamond Girl into the skies. Lynee Bixler always has a Sublime experience.
COLUMBUS – The Ohio Highway Patrol has used aircraft for searches and photography since 1948. But the first time pilots engaged in traffic enforcement was in 1952, when two Ohio Highway Patrol pilots saw a semi driving recklessly in Mahoning County. According to an Ohio Public Safety newsletter, they radioed a ground patrolman, who pulled […]
LAKE ARTHUR, Pa. – What could possibly be more fun than a boat, than when it is also an airplane. Fly with Dan Marks as his amphibious Aviat Husky slips the surly bonds of western Pennsylvania's grass and asphalt to splash down between the rolling mountain banks of the Allegheny River.
TIFFIN — Brad Newman married Dwight Knepper's daughter, and he figured he would help the Knepper's out with odd jobs around the airport. Now Brad runs it, and Dwight gets to supervise. Flight training, a charter service, top-notch maintenance and propeller shops have helped transform the small airport and attract a steady flow of business into Seneca County.
GARRETTSVILLE, Oh. – Before Boeing made jets, they made biplanes. Machine shop owner and pilot, Tim Paul is the likely caretaker of a remarkable piece of flying history.
Click here to return to the feature story. To view this video in higher quality: Click anywhere in the video frame above to go to the Stories That Fly YouTube Channel.  Select "Watch in High Quality" at the lower right corner of the play bar. To view all videos in high quality every time: Change your YouTube playback settings.  Here is […]